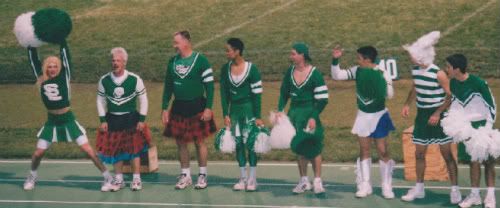 I enjoy reading the comments people leave here on my blog. I read each and every one of them and then enjoy checking out the blogs of the people who posts comments...
This morning I was reading through comments from my October 1st post (Welcome October) and came upon the following comment...thought I'd share it with you.
Matthew comments:
Thank you so much Brenda for this freebie! I will have to get my needle and thread out and start it right after I get home from watching Iowa State beat Kansas State!
Now first of all, a comment coming from the male gender doesn't happen too often on my needlework, cross stitching & sewing blog...so the male name sort of stood out! Red flag number 1.
Second of all, the commentators name is Matthew...have I mentioned my #2 child's name is Matthew? Red flag number 2, or just a coincidence?
Third of all, our #2 child is currently in a RV crossing the state of Kansas on his way to the mentioned football game in the comment. Just a coincidence, or red flag number 3!

Hmmm.....
Smells sort of like a stinky fish, don't ya think???
I giggled a bit, finished posting the comments, and then was on my merry way to work. But not before I visited my #2 child's Facebook page. I told him if he needed help threading his needle to just let me know and that I had no idea he enjoyed doing cross stitch in his free time...
Later in the morning the phone rings at Country Stitches...I answer and there is a male sounding voice on the other end. A male that needs to order some DMC floss....
Another stinky fish, perhaps????
Often times it is just fun to play along with this silly one of mine and act like I have no idea who I am talking to...
And then it gets to him, usually when I ask for his address, he can't stand it any longer and bursts into his familiar giggle...love it when he does that! I miss that giggle...darn it, why'd he have to grow up & move halfway across the country???
The blog comment and phone order today don't come as no surprise to me, coming from this silly child of mine. He has been doing this for years...calling mom's answering machine at Country Stitches, after hours, to order some patterns. He consistently ordered pattern number 109...and lots of them! On occasion he would talk a buddy into doing the same...the buddy ordered 50 patterns and then put the order on his credit card. With all seriousness in his voice, he proceeds to give his credit card #0000 0000 0000 0000...at that point I hear that familiar giggle in the background...BUSTED!!!! So reassuring to us parents, knowing this is how your college student is spending his evenings...
Then there is my poor employee Bev, the sweet gal that takes your phone in orders. Bev is well aware of my sons tendencies to do this silly stuff. The phone rings, she answers, a man looking for supplies to make tie dyed shirts....she blurts out "Hi, Matthew" and the gentleman on the other end of the phone says, "no this isn't Matthew, this is so & so and I am interested in supplies for making tie dye shirts (he is dead serious...no silly giggle here), do you carry supplies for this?" Needless to say, we spent the remainder of our day rolling off of our chairs laughing at this poor gentleman...hopefully he found someone that would sell him tie dye supplies!!
The above photo, yes, you're probably wondering what the photo at the top of the post has to do with anything about this post...My son is one of the cheerleaders in this picture , it is SO him...and it is payback time! Can you guess which cheerleader is my son? Hint, he is not one of the two cheerleaders in red plaid skirts...no they are teachers in our school system...scary, huh?
The above photo was taken in 2000 and I am happy to say all of the fine boys pictured have grown up, gone on to be successful in their jobs & some are even married with little ones. As for the two in the red skirts...they are still teachers in our school system...
Yes, this silly child of mine is now 26 years old...perhaps too old to be called a child? He may be all big and grown up now, but he will always be my silly one with the silly giggle. I hope he knows he can call his mother any day at work to order patterns or DMC floss...miss that silly giggle!
Have a good weekend,
Brenda